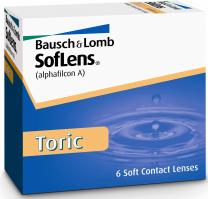 SofLens Toric
| | |
| --- | --- |
| Manufacturer: | Bausch & Lomb |
| Lenses per Package: | 6 |
| Recommended Replacement: | 1-2 Weeks Disposable |
| Product Category: | SofLens |
| Wearing Schedule: | Daily Wear |
| Material, Water Content: | Polymacon, 66% water |
| Our Price: | $55.95 CAD per Package |
$53.95
Save 4% with the purchase of 4 or more packages.
Information on SofLens Toric Contact Lens
SofLens Toric (SofLens For Astigmatism) is a two-week replacement lens for people with astigmatism. These contact lens has a unique design that is exceptionally easy to wear. SofLens Toric contact lenses are from Bausch & Lomb.
PLEASE NOTE: -2.75D ADD not avaliable in plus power
SofLens Toric Contact Lens Prescription

Need help entering your contact lens prescription?
Call us at 1-888-980-LENS to speak to our on-site contact lens fitter.
SofLens Toric Contact Lenses Guarantee