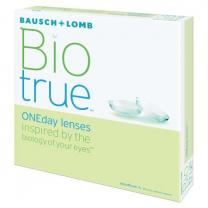 Biotrue ONEday 90 Pack
| | |
| --- | --- |
| Manufacturer: | Bausch & Lomb |
| Lenses per Package: | 90 |
| Recommended Replacement: | Daily Disposable |
| Product Category: | Biotrue |
| Wearing Schedule: | Daily Wear |
| Material, Water Content: | Nesofilcon A, 78% water |
| Our Price: | $73.50 CAD per Package |
$69.50
Save 5% with the purchase of 4 or more packages.
Information on Biotrue ONEday 90 Pack Contact Lens
NEW Biotrue ONEday lenses are made from a next generation, bioinspired material called HyperGel for comfortable vision throughout the day. The outer surface of the lens is designed to mimic the lipid layer of tear film to prevent dehydration and maintain consistent Optics; features the same water content as the cornea, 78%, to support incredible comfort and allows oxygen to flow freely through the lens, without the need for silicone, delivering oxygen level the open eye needs to maintain healthy, white eyes.
Biotrue ONEday 90 Pack Contact Lens Prescription

Need help entering your contact lens prescription?
Call us at 1-888-980-LENS to speak to our on-site contact lens fitter.
Biotrue ONEday 90 Pack Contact Lenses Guarantee