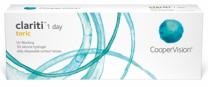 Clariti 1 Day Toric 30 Pack
| | |
| --- | --- |
| Manufacturer: | Cooper Vision |
| Lenses per Package: | 30 |
| Recommended Replacement: | Daily Disposable |
| Product Category: | |
| Wearing Schedule: | Daily Wear |
| Material, Water Content: | Somofilcon A, 56% water |
| Our Price: | $43.95 CAD per Package |
Information on Clariti 1 Day Toric 30 Pack Contact Lens
Astigmatism sufferers, pamper your eyes with clariti 1day toric lenses, which have UVA/UVB protection, allow more oxygen to your cornea, and use aspheric optics to keep your eyes seeing sharply all day long.
Some parameters are not available. We will notify you if the one you choose are not available. Thank you
Clariti 1 Day Toric 30 Pack Contact Lens Prescription

Need help entering your contact lens prescription?
Call us at 1-888-980-LENS to speak to our on-site contact lens fitter.
Clariti 1 Day Toric 30 Pack Contact Lenses Guarantee