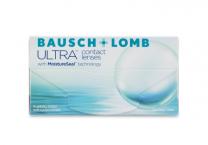 Bausch+Lomb ULTRA 6pk
| | |
| --- | --- |
| Manufacturer: | Bausch & Lomb |
| Lenses per Package: | 6 |
| Recommended Replacement: | Monthly Disposable |
| Product Category: | Ultra |
| Wearing Schedule: | Daily Wear |
| Material, Water Content: | Samfilcon A Water 46% |
| Our Price: | $51.95 CAD per Package |
$49.95
Save 4% with the purchase of 4 or more packages.
Information on Bausch+Lomb ULTRA 6pk Contact Lens
Bausch + Lomb ULTRA with MoistureSeal Technology are ideal for people who spend time on digital devices. With each lens' ability to prevent dehydration caused by reduced blink rates Bausch and Lomb ULTRA patients have agreed that they experience superior end of day vision. Enjoy the benefits of protection against blurred vision, eye strain, and tired eyes along with the crisp clear vision from all Bausch and Lomb lenses.
Bausch+Lomb ULTRA 6pk Contact Lens Prescription

Need help entering your contact lens prescription?
Call us at 1-888-980-LENS to speak to our on-site contact lens fitter.
Bausch+Lomb ULTRA 6pk Contact Lenses Guarantee