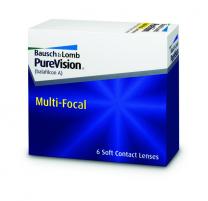 PureVision Multi-Focal
| | |
| --- | --- |
| Manufacturer: | Bausch & Lomb |
| Lenses per Package: | 6 |
| Recommended Replacement: | Monthly Disposable |
| Product Category: | PureVision |
| Wearing Schedule: | Extended Wear |
| Material, Water Content: | Balafilon A, 36% water |
| Our Price: | $72.95 CAD per Package |
$70.95
Save 3% with the purchase of 4 or more packages.
Information on PureVision Multi-Focal Contact Lens
PureVision Multifocal monthly wear contact lens are approved 30 day continuous wear for people who have presbyopia. However, only your eye care provider can determine if these contacts are right for you and how many days and nights you can wear them. It is important that you follow your eye care provider's wearing instructions.
PLEASE NOTE: LOW add power is for up to +1.50D, HIGH add power is for +1.75D to +2.50D
PureVision Multi-Focal Contact Lens Prescription

Need help entering your contact lens prescription?
Call us at 1-888-980-LENS to speak to our on-site contact lens fitter.
PureVision Multi-Focal Contact Lenses Guarantee