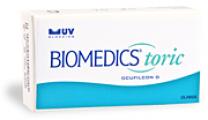 Biomedics Toric
| | |
| --- | --- |
| Manufacturer: | Cooper Vision |
| Lenses per Package: | 6 |
| Recommended Replacement: | Monthly Disposable |
| Product Category: | Biomedics |
| Wearing Schedule: | Daily Wear |
| Material, Water Content: | Ocufilcon D, 55% water |
| Our Price: | $59.49 CAD per Package |
$57.99
Save 3% with the purchase of 4 or more packages.
Information on Biomedics Toric Contact Lens
Biomedics Toric contact lenses. Also known as Ultraflex Toric. These are comfortable contact lens designed for those with astigmatism. Each box of contacts contain 6 contact lenses.
Biomedics Toric Contact Lens Prescription

Need help entering your contact lens prescription?
Call us at 1-888-980-LENS to speak to our on-site contact lens fitter.
Biomedics Toric Contact Lenses Guarantee