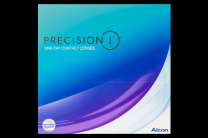 Precision 1 90pk
| | |
| --- | --- |
| Manufacturer: | Tutti |
| Lenses per Package: | 90 |
| Recommended Replacement: | Daily Disposable |
| Product Category: | Dailies |
| Wearing Schedule: | Daily Wear |
| Material, Water Content: | 51% water & 49% Verofilcon A |
| Our Price: | $83.99 CAD per Package |
Information on Precision 1 90pk Contact Lens
PRECISION 1 is designed to combat the top 3 causes of new wearer dropout, poor vision, poor comfort and handling issues. Water content steps up from 51% at the core to greater than 80% at the outer surface by Smartsurface Technology. The moisture continues for a long stretch of time, which gives you dependable comfort. These lenses are able to provide more than 96% protection from UV-A and more than 99% protection from UV-B.
Precision 1 90pk Contact Lens Prescription

Need help entering your contact lens prescription?
Call us at 1-888-980-LENS to speak to our on-site contact lens fitter.
Precision 1 90pk Contact Lenses Guarantee