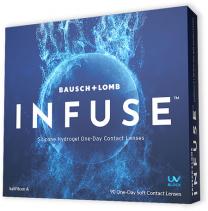 INFUSE One Day 90pk (Ultra One Day)
| | |
| --- | --- |
| Manufacturer: | Bausch & Lomb |
| Lenses per Package: | 90 |
| Recommended Replacement: | Daily Disposable |
| Product Category: | Ultra |
| Wearing Schedule: | Daily Wear |
| Material, Water Content: | Kalifilcon A, 55% water |
| Our Price: | $95.00 CAD per Package |
$90.00
Save 5% with the purchase of 4 or more packages.
Information on INFUSE One Day 90pk (Ultra One Day) Contact Lens
Using advanced proprietary technologies, Bausch + Lomb INFUSE Daily disposable contacts are a silicone hydrogel lens with a next-generation lens material called kalifilcon A. INFUSE Daily provide extra breathability, excellent optics, and all-day comfort. Features Class 2 UV-blocking and more than 50% water content.
INFUSE ONE DAY contact lenses are identical to ULTRA ONE DAY contact lenses. They are named under ULTRA ONE DAY in Canada. Even if brand names and packaging graphics are different the lenses are identical products. The order you have placed will be filled with ULTRA ONE DAY. So different packaging, same manufacturer and identical product
INFUSE One Day 90pk (Ultra One Day) Contact Lens Prescription

Need help entering your contact lens prescription?
Call us at 1-888-980-LENS to speak to our on-site contact lens fitter.
INFUSE One Day 90pk (Ultra One Day) Contact Lenses Guarantee