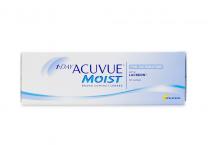 1 Day Acuvue Moist for Astigmatism 30pk
| | |
| --- | --- |
| Manufacturer: | Extreme |
| Lenses per Package: | 30 |
| Recommended Replacement: | Daily Disposable |
| Product Category: | Acuvue |
| Wearing Schedule: | Daily Wear |
| Material, Water Content: | etafilcon A; 58% water |
| Our Price: | $44.95 CAD per Package |
Information on 1 Day Acuvue Moist for Astigmatism 30pk Contact Lens
1 Day Acuvue Moist for Astigmatism contact lenses are a convenient way to wear your contacts. Just wear them one day and throw them away! Enjoy the feeling of a fresh, clean contact lens every day with 1-DAY ACUVUE Moist for Astigmatism from Johnson and Johnson. These lenses are made specifically for people with astigmatism.
1 Day Acuvue Moist for Astigmatism 30pk Contact Lens Prescription

Need help entering your contact lens prescription?
Call us at 1-888-980-LENS to speak to our on-site contact lens fitter.
1 Day Acuvue Moist for Astigmatism 30pk Contact Lenses Guarantee