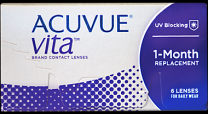 Acuvue Vita 6pk
| | |
| --- | --- |
| Manufacturer: | Acuvue |
| Lenses per Package: | 6 |
| Recommended Replacement: | Monthly Disposable |
| Product Category: | Acuvue |
| Wearing Schedule: | Extended Wear |
| Material, Water Content: | Senofilcon C, 41% water |
| Our Price: | $55.00 CAD per Package |
Information on Acuvue Vita 6pk Contact Lens
Introducing Acuvue Vita 1-month replacement contact lenses with HydraMax technology at the lowest price possible. Acuvue Vita are the only monthly (recommended replacement) that meets UV blocking standards among leading brands*. If you find that you may need to take breaks from wearing contacts, use rewetting drops or need to remove your lenses to deal with discomfort, new Acuvue Vita brand contact lenses with HydraMax technology might be for you. Our discounted Acuvue Vita lenses come in a 6-pack box and are the exact same as you would get from your eye care provider. Each Acuvue Vita lens provides up to 1 month of comfortable wear, depending on your eye care provider's instructions for use.
Acuvue Vita 6pk Contact Lens Prescription

Need help entering your contact lens prescription?
Call us at 1-888-980-LENS to speak to our on-site contact lens fitter.
Acuvue Vita 6pk Contact Lenses Guarantee