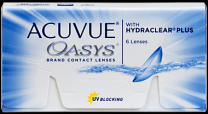 Acuvue Oasys 12pk
| | |
| --- | --- |
| Manufacturer: | Acuvue |
| Lenses per Package: | 12 |
| Recommended Replacement: | 1-2 Weeks Disposable |
| Product Category: | Acuvue |
| Wearing Schedule: | Extended Wear |
| Material, Water Content: | senofilcon A, 38% water |
| Our Price: | $66.99 CAD per Package |
Information on Acuvue Oasys 12pk Contact Lens
The Acuvue Oasys lens utilizes Hydraclear Plus technology to help eyes stay moist and comfortable. Oasys lenses offer exceptional long lasting comfort for people who suffer from dry eyes.
Acuvue Oasys 12pk Contact Lens Prescription

Need help entering your contact lens prescription?
Call us at 1-888-980-LENS to speak to our on-site contact lens fitter.
Acuvue Oasys 12pk Contact Lenses Guarantee