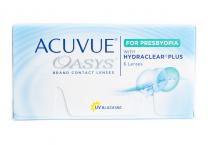 Acuvue Oasys for Presbyopia
| | |
| --- | --- |
| Manufacturer: | Acuvue |
| Lenses per Package: | 6 |
| Recommended Replacement: | 1-2 Weeks Disposable |
| Product Category: | Acuvue |
| Wearing Schedule: | Extended Wear |
| Material, Water Content: | senofilcon A, 38% water |
| Our Price: | $52.99 CAD per Package |
Information on Acuvue Oasys for Presbyopia Contact Lens
Whether you have worn corrective lenses for years or have reached an age where objects close up have become difficult to see (such as the text on your smartphone), Acuvue Oasys for presbyopia contact lenses provide unsurpassed vision correction.
Acuvue Oasys for Presbyopia Contact Lens Prescription

Need help entering your contact lens prescription?
Call us at 1-888-980-LENS to speak to our on-site contact lens fitter.
Acuvue Oasys for Presbyopia Contact Lenses Guarantee