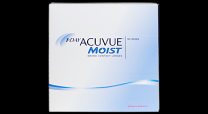 1 Day Acuvue Moist 90pk
| | |
| --- | --- |
| Manufacturer: | Extreme |
| Lenses per Package: | 90 |
| Recommended Replacement: | Daily Disposable |
| Product Category: | Acuvue |
| Wearing Schedule: | Daily Wear |
| Material, Water Content: | etafilcon A; 58% water |
| Our Price: | $72.99 CAD per Package |
$69.99
Save 4% with the purchase of 4 or more packages.
Information on 1 Day Acuvue Moist 90pk Contact Lens
It might sound like an exaggeration to say that 1 Day Acuvue Moist contact lenses from Acuvue have revolutionized daily disposable contacts, but these contacts boast a breakthrough level breathability, comfort, and moisture unparalleled in the industry when they debuted and remain at the forefront of lens technology today. In fact, they're so comfortable, you may even forget they're there. In one study, 77% of 1 Day Acuvue Moist users reported that their lenses felt new and fresh for the entire day.
1 Day Acuvue Moist 90pk Contact Lens Prescription

Need help entering your contact lens prescription?
Call us at 1-888-980-LENS to speak to our on-site contact lens fitter.
1 Day Acuvue Moist 90pk Contact Lenses Guarantee