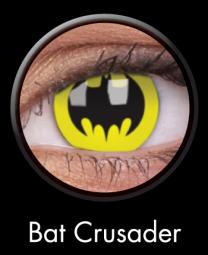 Bat Crusader Special Effect Crazy Lens (2 Vials)
| | |
| --- | --- |
| Manufacturer: | ColourVUE |
| Lenses per Package: | 2 |
| Recommended Replacement: | Yearly Disposable |
| Product Category: | ColourVUE |
| Wearing Schedule: | Daily Wear |
| Material, Water Content: | Terpolymer, 45% water |
| Our Price: | $59.99 CAD per Package |
Information on Bat Crusader Special Effect Crazy Lens (2 Vials) Contact Lens
Special Effect "Bat Crusader" Crazy Contact Lens from ColourVUE. Excellent oxygen permeability and superior comfort. All ColourVUE Crazy Contact Lenses are added with prism ballast feature for axis control which means lenses like "Cat's Eye" will stay at vertical instead of turning. Some special effect contacts may take up to 1-2 weeks for custom order.
Bat Crusader Special Effect Crazy Lens (2 Vials) Contact Lens Prescription

Need help entering your contact lens prescription?
Call us at 1-888-980-LENS to speak to our on-site contact lens fitter.
Bat Crusader Special Effect Crazy Lens (2 Vials) Contact Lenses Guarantee