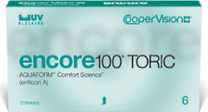 Encore 100 Toric
| | |
| --- | --- |
| Manufacturer: | Cooper Vision |
| Lenses per Package: | 6 |
| Recommended Replacement: | 1-2 Weeks Disposable |
| Product Category: | Encore |
| Wearing Schedule: | Daily Wear |
| Material, Water Content: | Enfilcon A, 46% water |
| Our Price: | $49.95 CAD per Package |
$47.95
Save 4% with the purchase of 4 or more packages.
Information on Encore 100 Toric Contact Lens
Encore100® Toric offers you with astigmatism a lens that maximizes performance and delivers a remarkable level of consistency, especially important for astigmatic patients who typically need different prescriptions in each eye. Made with the exclusive Aquaform® Technology, encore100 Toric provides a lens material with hydrophilic properties. Aquaform® Technology utilizes longer siloxane chains, resulting in less silicone having to be incorporated into the material to achieve high Dk. It also creates charged areas within the lens material that form hydrogen bonds with water molecules, locking the water into the lens to aid in comfort and minimize deposits. With the added bonus of a UV blocking*, this is a great lens for a great value.
Encore 100 Toric Contact Lens Prescription

Need help entering your contact lens prescription?
Call us at 1-888-980-LENS to speak to our on-site contact lens fitter.
Encore 100 Toric Contact Lenses Guarantee