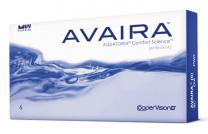 Avaira
| | |
| --- | --- |
| Manufacturer: | Cooper Vision |
| Lenses per Package: | 6 |
| Recommended Replacement: | Monthly Disposable |
| Product Category: | Encore |
| Wearing Schedule: | Daily Wear |
| Material, Water Content: | Enfilcon A, 46% water |
| Our Price: | $29.45 CAD per Package |
$27.95
Save 5% with the purchase of 8 or more packages.
Information on Avaira Contact Lens
Avaira contact lenses provide natural comfort with their moist and soft feeling on the eye. The material that the contact lenses are made out of forms a bind with the eye by keeping water within the lens itself, making sure that optimum moisture is achieved and kept for the duration that the lenses are worn. Avaira contacts last for two weeks before they need to be changed. Manufactured by CooperVision, Avaira lenses are designed to keep your eyes healthy looking and feeling, clear of irritation or redness, and providing and retaining maximum moisture. Avaira contact lenses are actually Encore 100, re-branded (or privately labeled). Avaira and Encore 100 are the exact same lens in every aspect except for the name and packaging. We may ship either the Avaira packing or the Encore 100 packing according to stock availability
PLEASE NOTE: Please Note: Plus Power only comes in 8.4 base curve, and Minus Power only comes in 8.5 base curve. Avaira will be discontinued starting Oct 1/2017. Coopervision recommends customer to switch it to Biofinity or Sapphire or Avaira Vitality contact lenses. Sapphire/Avaira Vitality will require no refit for Encore 100 patients
Avaira Contact Lens Prescription

Need help entering your contact lens prescription?
Call us at 1-888-980-LENS to speak to our on-site contact lens fitter.
Avaira Contact Lenses Guarantee