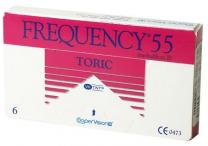 Frequency 55 Toric
| | |
| --- | --- |
| Manufacturer: | Cooper Vision |
| Lenses per Package: | 6 |
| Recommended Replacement: | Monthly Disposable |
| Product Category: | Frequency |
| Wearing Schedule: | Daily Wear |
| Material, Water Content: | Methafilcon B, 55% water |
| Our Price: | $53.95 CAD per Package |
$51.95
Save 4% with the purchase of 4 or more packages.
Information on Frequency 55 Toric Contact Lens
Frequency ® 55 Toric contact lenses by Cooper Vision is for people that need to correct their astigmatism. These contacts resist build up of proteins so you can see comfortably everyday. 6 contact lens are provided in each box and these lenses can be worn daily up to 30 days.
PLEASE NOTE: Frequency Toric will be discontinued starting Oct 1/2017. Coopervision recommends customer to switch it to Biofinity Toric contact lenses
Frequency 55 Toric Contact Lens Prescription

Need help entering your contact lens prescription?
Call us at 1-888-980-LENS to speak to our on-site contact lens fitter.
Frequency 55 Toric Contact Lenses Guarantee