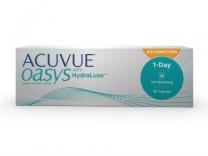 Acuvue Oasys 1 Day Astigmatism 30pk
| | |
| --- | --- |
| Manufacturer: | Extreme |
| Lenses per Package: | 30 |
| Recommended Replacement: | Daily Disposable |
| Product Category: | Acuvue |
| Wearing Schedule: | Extended Wear |
| Material, Water Content: | Senofilcon A, 38% water |
| Our Price: | $49.99 CAD per Package |
Information on Acuvue Oasys 1 Day Astigmatism 30pk Contact Lens
The new Acuvue Oasys 1-Day for Astigmatism comes equipped with the brand's Hydraluxe technology and the highest level of UV protection currently available for contact lenses. The brand diminishes tired eyes by harnessing the natural power of eyelid movements to keep lenses in a stable position, all in a convenient 30 day disposable pack.
Acuvue Oasys 1 Day Astigmatism 30pk Contact Lens Prescription

Need help entering your contact lens prescription?
Call us at 1-888-980-LENS to speak to our on-site contact lens fitter.
Acuvue Oasys 1 Day Astigmatism 30pk Contact Lenses Guarantee