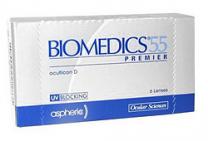 Biomedics 55 Premier
| | |
| --- | --- |
| Manufacturer: | Cooper Vision |
| Lenses per Package: | 6 |
| Recommended Replacement: | 1-2 Weeks Disposable |
| Product Category: | Biomedics |
| Wearing Schedule: | Daily Wear |
| Material, Water Content: | Ocufilcon D, 55% water |
| Our Price: | $39.95 CAD per Package |
Information on Biomedics 55 Premier Contact Lens
Biomedics 55 Premier contact lenses are aspherical contact lenses that corrects for aberrations a patient may have in their eye. Biomedics 55 Premier focuses light to a common focal point, allowing you to see with clearer, sharper vision. These contact lens are weekly disposable lenses and there are 6 lenses per box. These lenses is also known as: Ultraflex, Medflex, Polysoft, Proflex, Softmed, Target, Aqualens, Flextique, and Versaflex. These brands are all the exact same product.
PLEASE NOTE: Plus (+) power only available in an 8.8 base curve, and minus (-) power only available in 8.6 and 8.9 base curve
Biomedics 55 Premier Contact Lens Prescription

Need help entering your contact lens prescription?
Call us at 1-888-980-LENS to speak to our on-site contact lens fitter.
Biomedics 55 Premier Contact Lenses Guarantee